Nathan And The Gregs Demo
Name
Your Plastic Fortress
Tracks
20
Total length
Recorded
Hastings and St Leonards, 2010
Writer/composer
Artwork
Natalia Hunt
Format(s)
CDr
Catalogue number
NATG024CD01, 9205-35LD-22071 [On Disc]
Release date
September 2010
Demo Chronology
Music Recordings 3

<
Your Plastic Fortress
>
October Demo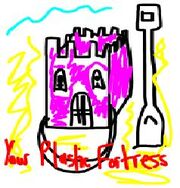 Information
Edit
A demo that was supposed to feature all versions of songs intended to be on the proposed Your Plastic Fortress EP. However, the CDr did not burn properly and not all the tracks were burnt onto the disc. For example, only 3 version of Changeling were included, when many more were meant to be on the CD.
Tracklisting
Edit
Zombie Screams
Back to Discography.
Ad blocker interference detected!
Wikia is a free-to-use site that makes money from advertising. We have a modified experience for viewers using ad blockers

Wikia is not accessible if you've made further modifications. Remove the custom ad blocker rule(s) and the page will load as expected.