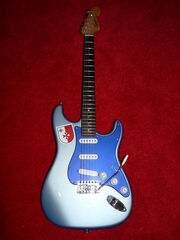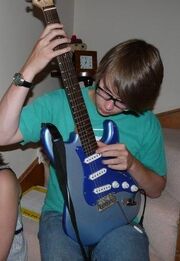 Name
Squier Stratocaster
Manufacturer
Squier
Used
2006-2010, 2011-2012
Body
Solid
Neck
Bolt-on
Body Covering
Sunburt, but resprayed
Wood

Body: Ash

Neck: Maple

Fretboard: Rosewood

Bridge
Synchronized Tremolo
Pickups
3 single-coils
The Squier died on many occasions due to electronic faults, but had been brought back to life everytime. The problems started when the guitar was resprayed in 2009, as it was not put back together properly. For a long part of its lif, the ewammy bar didn'tt work, and there was a crack in one of the tone selecters. The pick-ups are not attached, and they move up and down as there are no springs inside.
Nathan purchased the Harrier Telecaster as a replacement in August 2010, but after turning out to be an awful guitar, he resorted back to this one after having got it partially fixed in May 2011.
Nathan finally bought a brand new, good guitar in May 2012, and he no longer uses the Strat.
Used live
Edit