The Design Demo
Name
Sententae Antique
Tracks
Total length

13:50 [3 Tracks]
39:01 [9 Tracks]

Recorded
St Leonards, 2008-2009
Writer/composer
Bellamy
Artwork
Natalia Hunt
Format(s)
CDr
Catalogue number

NATG010CD01 [3 Tracks], N-127-BLD-191-D-814155-A-1 [On Disc]
NATG010CD02 [9 Tracks], 151-58RE-35623 [On Disc]

Release date
January 2009
Demo Chronology
Make My Day
<
Sententae Antique
>
Butterflies And Hurricanes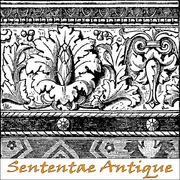 InformationEdit
Sententae Antique, is Latin for 'Old Knowledge' and was coined by Natalia Hunt. Over 2008 and 2009 Nathan had recorded covers of Muse songs under The Design, and this 'album' was going to feature all those songs. These covers were the only thing to come out of 2009, with no new material created using soundloops, thus The Design had become virtually defunct.
Tracklisting
Edit
3 Track DemoEdit
Hoodoo [4th Version] - 3:00
9 Track DemoEdit

Back to Discography.