Nathan Hunt/Nathan And The Gregs Demo
Name
Pistolero Of The Apocalypse
Tracks

1 [CDr]
2 [7" Vinyl]
4 [CDr, Cassette]
6 [CDr]

Total length

5:10 [1 Track CDr]
7:15 [7" Vinyl]
16:36 [4 Track CDr, Cassette]
17:57 [6 Track CDr]

Recorded
St Leonards-on-sea, February-April 2010
Writer/composer
Nathan Hunt/Natalia Hunt
Artwork
Nathan Hunt/Natalia Hunt
Format(s)
Catalogue number

NATG018V701 [7" Vinyl]
NATG018CS01 [Cassette]
NATG018CD01 [1 Track]
NATG018CD02 [4 Tracks]
NATG018CD03 [6 Tracks]

Release date
March-April 2010
Demo Chronology
Covers
<
Pistolero Of The Apocalypse
>
Nathy Boy's Bare Massive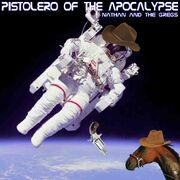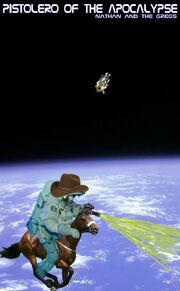 InformationEdit
5 Pistolero Of The Apocalypse Demos released over 2 months. Some of the editions included artwork.
TracklistingEdit
7" Vinyl
B
4 Track, CassetteEdit

Back to Discography.
Ad blocker interference detected!
Wikia is a free-to-use site that makes money from advertising. We have a modified experience for viewers using ad blockers

Wikia is not accessible if you've made further modifications. Remove the custom ad blocker rule(s) and the page will load as expected.