Nathan And The Gregs Demo
Name
Early 2010 Demo
Tracks
6
Total length
18:12
Recorded
St Leonards, February 2010
Writer/composer
Nicholson/Hunt/Bellamy
Artwork
Nathan Hunt
Format(s)
CDr
Catalogue number
NATG016CD01, 9205-35RB-2207B [On Disc]
Release date
February 2010
Demo Chronology
Uprising

<
Early 2010 Demo
>
Randoms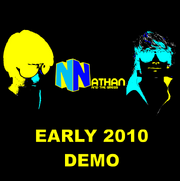 Information
Edit
A demo featuring the beginnings of Nathan's composition for his GCSEs, and a few Muse covers.
Tracklisting
Edit

Back to Discography.
Ad blocker interference detected!
Wikia is a free-to-use site that makes money from advertising. We have a modified experience for viewers using ad blockers

Wikia is not accessible if you've made further modifications. Remove the custom ad blocker rule(s) and the page will load as expected.