The Design/Nathan And The Gregs Demo
Name
Butterflies And Hurricanes
Tracks
3
Total length
20:08
Recorded
St Leonards, 2009
Writer/composer
Bellamy
Artwork
Nathan Hunt
Format(s)
CDr
Catalogue number
NATG011CD01, N-127-BLD-191-D-814157-B-1 [On Disc]
Release date
February 2009
Demo Chronology
Sententae Antique
<
Butterflies And Hurricanes
>
Music Recordings - Volume 1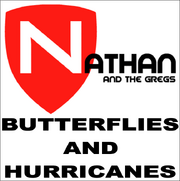 Information
Edit
A 4 track demo featuring separated tracks of Nathan's cover of Muse's Butterflies And Hurricanes. The cover features the original NATG logo. It was recorded for Sententae Antique under The Design.
Tracklisting
Edit
Back to Discography.
Ad blocker interference detected!
Wikia is a free-to-use site that makes money from advertising. We have a modified experience for viewers using ad blockers

Wikia is not accessible if you've made further modifications. Remove the custom ad blocker rule(s) and the page will load as expected.